This is the story of a record, a photograph, a discographic mystery, a quizzical image, and a lot of smiles.
Said smiles belong to Charles Elgar and his band, seen in this photograph dated November 1921: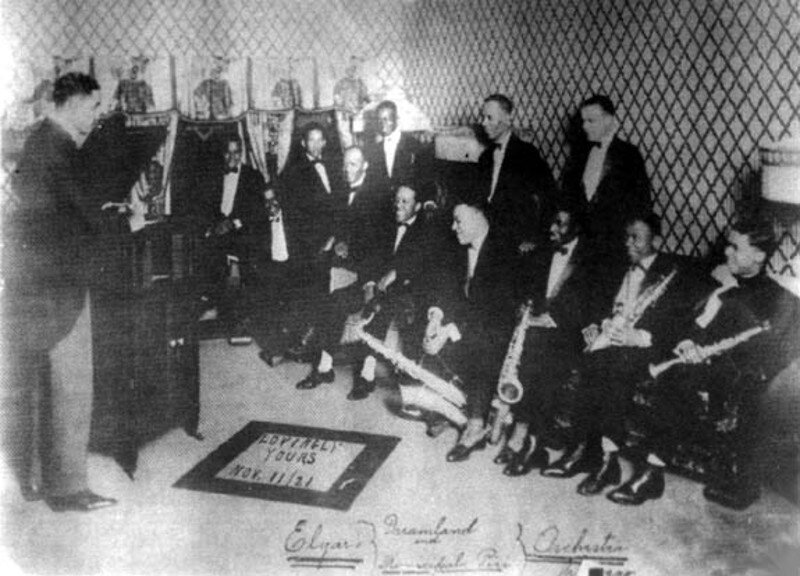 Elgar's Creole Orchestra, from left to right: Charles Elgar, Leroy Bradshaw, William Shelby, Walter Wright, Walter Gossette, William Neely, William Randall, Bert Hall, Harry Swift, Richard Curry, Joe Sudler, Clifford King, and Darnell Howard. Photo from Mark Berresford's collection. Web image courtesy of The Syncopated Times.
The photo is from Mark Berresford's collection. While researching the life of Darnell Howard—seated all the way to the right with the biggest grin in the bunch—I emailed the collector and historian about using the image in a future article, and he mentioned the following:
I've always been fascinated by that photo, as the implication, judging from their faces, especially Darnell Howard's, is that they are listening to themselves. If that's the case, it may give credence to the Autograph test pressing of "Muscle Shoals Blues."
The record he mentioned is a rollicking performance of the tune from an unidentified band on an unissued recording. The music was not available on YouTube, so I offer apologies for my limited knowledge of iMovie in putting this video together:
It's uncertain who made this rollicking music, but thankfully, they committed it to record. As Berresford explains in his liner notes for the Timeless Historical CD From Ragtime to Jazz, Vol. II (which introduced me and many others to this recording):
"Muscle Shoals Blues" is a mysterious and historically important record. Nothing is known of the band, other than they sound Black, and as the record was made in Chicago, it is likely they played in one of the large dance halls in the Windy City. Unlike New York, Chicago had a reputation early on for large African American bands such as those led by Sammy Stewart, Dave Peyton, Erskine Tate, Charles Elgar, and Carroll Dickerson, and it is possible one of these aggregations is heard on this record.
Berresford explains that if this were the Chicago-based Elgar band, "they would have had to get their skates on." He pointed out that George W. Thomas published his "Muscle Shoals Blues" in August 1921. By November 1921, Harry Raderman's Jazz Orchestra in New York City had supplied the tune's first (known) recording. Berresford also suggested that with Thomas having been in Chicago since 1920, he could have plugged the song to local bandleaders in the Windy City, including Elgar.
This test pressing was from the Autograph label, which was owned by Marsh Laboratories and Orlando Marsh, a pioneer in electrical recording. I was intrigued by the connection between this image and this record, and Berresford was kind enough to connect me with Richard Raichelson. Among his extensive musical scholarship, Prof. Raichelson wrote the book on Marsh: Orlando R. Marsh: Chicago's Pioneer of Electrical Recording.
Raichelson had heard the theory before, was still interested in the possible connection, and was similarly gracious in sharing his knowledge:
The photo shows a band of 12 members, including Elgar. We only wish that he had not placed his hand in a position to obscure the label. Elgar is certainly playing a record that seems to put a smile on everyone's face. But why? The date on the placard is November 11, 1921: Armistice Day. Were they laughing over a recording of a performance that they were supposed to do for the holiday?
He dates the record to November of 1921. His research shows that Thomas copyrighted his tune on August 29, 1921, with a copy of the sheet music listing an office in Chicago. He also offered that even with the tune being copyrighted in 1921, Thomas may have written it earlier.
As Raichelson explains in his book, it was likely by a nine-piece Chicago theater band comprised of two trumpets, trombone, clarinet, flute, violin, possibly a tenor saxophone, brass bass, and drums. The sound offers further clues for him:
The recording of the band by Marsh is quite good. Despite being early, it's better than many of the others he recorded at the time. His studio in 1921 was the Essanay Film Company. However, this recording sounds like it could have been made in a theater or a hall. Elgar did play at the Navy Pier, which was also a ballroom, during this time. Since Elgar's band played at the Navy Pier and Harmon's Ballroom, were there any ads that specified any of the tunes he performed?
Raichelson also suggested that the band may have been appreciating a now lost record. He shared a clipping from the Chicago Whip of September 24, 1921, that mentions Elgar may record for the Emerson label. "Based on the date," he asked, "would it be possible that they did and were listening to an Emerson test in that photo from November 11, 1921? This is the only reference I've seen to a recording on Emerson."
What began as a request for permission to use a photo turned into a fascinating set of connections. If this is the Elgar band on "Muscle Shoals Blues," it's a welcome look into a band and bandleader that didn't record much, a fascinating snapshot into the sound of a Chicago big band from that time, and Darnell Howard's first recorded work on clarinet to boot. And it all began with his smile! My sincere thanks to Mark Berresford and Richard Raichelson for sharing their insights and their time with me.